IT BAKES AND TASTES LIKE SUGAR!

From Lynn Grieger, RD, CDE, cPT:
As a health and nutrition professional, I look for natural food options that give my clients the delicious taste they expect while promoting a healthier lifestyle for themselves and their families. Natur Bakerís Blend looks and tastes just like sugar, yet has 40% fewer calories, a low glycemic index, and is made from all-natural ingredients. Plus, it can be used just like sugar in baking, cooking, and sweetening both hot and cold beverages. I feel good recommending a healthier
sugar alternative that tastes great!


MADE WITH NATURAL INGREDIENTS

I encourage my clients with diabetes and heart disease to choose all-natural, organic foods whenever possible to promote good health. Natur Bakerís Blend is produced from dried cane sugar and other natural ingredients found in fruit and vegetables. 40% fewer calories than sugar helps my clients control their weight, and a lower glycemic index keeps blood sugar in healthy levels. Your entire family Ė and mine - can enjoy favorite sweet treats and beverages without worrying about artificial ingredients or health hazards.


40% FEWER CALORIES
GREAT FOR PEOPLE WITH DIABETES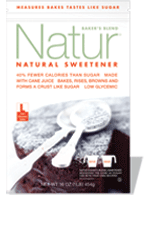 Letís face it: eating right and watching your weight requires making choices. But it doesnít mean you have to give up your favorite, good-tasting foods and drinks. Low calorie, low carbohydrate, natural Natur Bakerís Blend helps you feel good about your food choices while meeting your health and fitness goals. Add a little sweet-ness to life!



GET NATUR BAKER'S BLEND SWEETENER... BUY NOW!